The Thinking Fan's Guide to Walt Disney World: Magic Kingdom

Posted:
Mon Mar 18, 2013 10:08 pm
Hello friends,
I'm very pleased to announce that my first book,
The Thinking Fan's Guide to Walt Disney World: Magic Kingdom
is now available! While it hits bookstores on 4/16/13, it's already shipping from Amazon.com at
a pretty nice discount
.
Here's a quick description of the book from the publisher:
A different kind of guidebook that leaves out the usual ephemera on trip planning, ticket prices, restaurants, and shopping to concentrate on what visitors to Magic Kingdom came to see - the rides and attractions. Each attraction gets its own essay covering the history and lore behind it along with a serious discussion of the attraction as a work of narrative fiction, which is what Disney attractions actually are. Ideal for the enthusiast and returning guest.
The entire book project really evolved out of my podcast and my experiences with the Disney fan community, including all the interactions here at the DPN. One of the things that has me most excited about this is that the DPN now has, in some sense, a "published presence" in the Disney community. You might even find a few references to the DPN in the book!
The book hits stores in April, but you can go ahead and
order it from Amazon
for immediate shipping. Preorders are also available from international Amazon stores, BarnesandNoble.com (also shipping now), many local bookstores, etc.
Here's the book cover (featuring the graphic contribution of official Disney Legend Charles Ridgway!):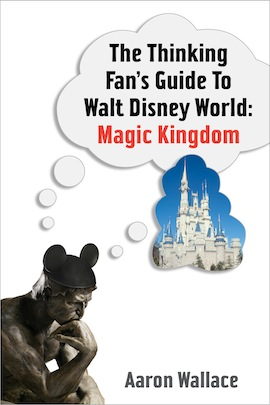 I can't begin to tell you how excited I am to see this book coming to fruition at long last, and I can't wait to share it with you all!
-Aaron