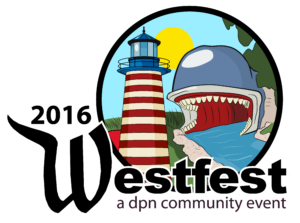 After WestFest each year, I usually write a Thank You note to thank all those that showed up. This year will be no different in that there will be a note (indeed you are reading it now), but the tone most certainly will be different than from years past (and it will be longer).
Let me start by stealing a post from Facebook written by Brad (Oakfan):
Wow! 10 years! The time has gone by in the blink of an eye.
I might get a little sappy but here it goes.
December 2006. A group of Disney podcasters met in person for the first time at Mousefest in WDW. Some were outgoing. Some less so. We came from so many different backgrounds. Who could have guessed all the lasting friendships that would be created from those first encounters? I know I'll never forget that trip or the people I met.
From a spark from the original group that got together at Disneyland in 2006 to today, it has been a wonderfully entertaining ride. The ideas, the enthusiasm, the creativity, the emotion, the passion (and even some arguing). We had it all. And together we created Westfest. As more of our small community got involved, new friendships, new ideas, new enthusiasm emerged. We quickly stopped being podcasters and their fans and became simply friends. Good friends!
I've been fortunate enough to attend every Westfest. I've seen it all. The experiences I've had at Westfest through the years are some of the best of my life. No joke. And I owe it all to everyone who attended and contributed in their own way. I truly appreciate the effort people put into their meets through the years. For many, the creativity and energy was amazing. The time spent preparing was unbelievable. Please know that all was enjoyed and appreciated.
Through the DPN and Westfest we have seen our friends experience many life events. We've celebrated, rejoiced, laughed and cried with these friends through the years. Our lives are all better for having experienced these events with each other. Both the good and the bad. This kind of support would not have happened if it weren't for us meeting at Westfest. At least not with this great group of people.
Even though we have officially come to the end of Westfest as we have known it, I'm confident that this group will remain friends and continue to come together in the Disney Theme Parks and beyond.
Here's to 10 amazing years with all my friends and many more to come! Cheers!
I feel it is important to include Brad's words in this final farewell because it was his enjoyment of Mousefest in 2006 that was the impetus to recreate it on the west coast. He was the one who came home from Florida and reached out to all the other podcasters and said "I want to do that again, but at Disneyland". So while we credit Jeff the Meandering Mouse with the creation of The DPN, we need to credit Brad with the idea of getting our own community together inside Disneyland. Thank You Brad.
For me, in the beginning, WestFest was about numbers. It was my belief that we needed more people to show up each year than the year before. Because, back then, that's how I thought the event's success was measured. Some folks would say the event is not successful because only about 30 people show up. But here at the end of our ten year run, success has been redefined. The event is successful because of the same 30 folks that show up every year. The decision to stop "Official" DPN WestFests comes as a result of that redefinition of success. If the same 30 people always go to Disneyland the last full weekend in April, then there is no need for elaborate planning, or marketing the event to a wider world.
For myself, I can only repeat Brad's statement that "Our lives are all better for having experienced these events with each other". I cherish all the friendships that this thing has brought me over the years. I'm also confident we all will still be friends ten years from now, and beyond. Because, in the end, we are all DPN-ers and we always will be.
Thank you all,
Mike